Are you looking for someone to teach you the basic lessons about how to start investing and be safe while doing so in order to meet your long time financial goals? Are you not taking the first step towards investing with the fear of failing on your debut? Are you still new to the world of investment and are still struggling to even know the basic terms and lingo used in the markets?
If the answer to any of the above question is a 'YES' for you, then you have come to the right place. India is a developing nation and the opportunities for investment and the pace at which the economy is growing has no match. This is the reason that investors all over the world want to invest in a country like India in one way or the other.
Read: How to get over the fear of Investing?
In a country like ours, where the world wants to invest, the financial literacy rate is too low. In the 5 Year plans that our country comes up with or for that matter in the Annual budget, they allocate funds to Literacy in India. Nobody ever talks of Financial Literacy. This where the mediums like EquiTipz come into picture. We have always been striving to provide financial learning to people from the very basics. And when anyone around us does something that matches the vision that we have, I feel that is our duty and honour to spread such a cause.
The event that I am referring to here is a free workshop to spread financial awareness among people. Moneylife foundation in collaboration with ICICI Bank and DISHA Financial Counselling has come up with a series of workshops which aims to provide basic knowledge to people for investments and how to manage their money.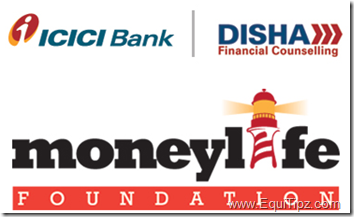 DISHA and Moneylife Foundation are conducting a workshop every Tuesday between 3 P.M. to 6 P.M. from May 4, 2010 to April 26, 2011 on "How to be safe and smart with your money". These are free workshops, which are open to anyone who wants the basic knowledge about investments and needs to know the basics of how to keep his/her money safe and make it grow to fulfil their long term goals. The effort aims at enhancing the overall financial health of consumers.
At the end of the workshops, there is an interactive session where you can have your queries answered. I suggest all the readers to attend the workshop as you need to learn a lot from the discussions in these kinds of workshops as you come to know various strategies that people follow to manage their money.
To attend these workshops, you need to call 24441059-60 and confirm your presence; or send an e-mail to mail@mlfoundation.in. More details of these sessions can be found on the homepage of www.moneylife.in.
In addition to this, the services of DISHA Financial Counselling (a social and financial initiative of ICICI Bank spread across 8 centres in the country) will also be available free of cost to all customers of all banks.
Moneylife Foundation, started by Moneylife magazine, is a not-for-profit trust and intends to spread financial literacy through workshops, discussions and awareness campaigns; offer advocacy to bring about regulatory changes to protect the rights of investors; and assist in grievance redressal through counselling and research. For more information, you may visit their website at visit www.moneylife.in
I would suggest that if possible, you should attend this session and also, share your experiences with the other readers on EquiTipz.
What are your views on the conduction of such Workshops? Do they help the Investor/Common man in any way.