We have already been talking about Credit Cards on EquiTipz with some articles like What is a Virtual Credit Card? and How are the Interest- free days calculated for my credit card? written some time back. You may click on the links to read  if you missed them.
In this article, I am going to talk everything about "Verified by VISA" which is a Security Program from VISA.

What is Verified by VISA Service?
In addition to our other ways of preventing and detecting fraud, VISA  offers Verified by Visa, a free and simple-to-use service that confirms your identity with an extra layer of password when you make an online transaction. Under this service, you are  allowed to PIN-protect your  Plastic Card usage on the internet. This gives you an added assurance that only you can use your Credit Card/Debit Card Online.
How does Verified by VISA work?
Verified by VISA allows you set a personalised password just like we have the PIN for  an ATM. In order to enrol in this service and be secured over the internet, you need to register your Credit Card and choose a secure PIN. This secure PIN/Password  will be mandatory whenever you use your credit card to make internet purchases from the participating merchants.
In turn, this requirement of the PIN to be used every time  prevents unauthorized usage of your Credit Card when you make any purchase over the internet, giving you more confidence while making any payments online.
Do I need to apply a new Credit Card to avail VbV?
No. You can simply register your existing VISA Card and you are good to go.
How do I register for Verified by VISA?
You can register your Credit Card and activate  VbV while you shop for the first time over the internet. Below is a simplified description of the process as given on the VISA Website.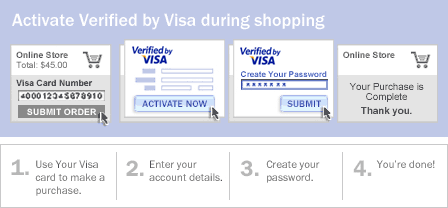 Everything is self-explanatory in the picture above. In the Step 2, you will be asked your Date of Birth, Card expiry details. In case you do not understand anything, please let me know in the Comment Form below. I will be more than happy to help you. 🙂
Now, when you make any purchase in the future, you will have to use the same Password that you set above. This adds to the security of the purchases made online provided you donot share this password with anyone. 🙂
Is Verified by Visa easy to use?
Verified by Visa is very easy  to use. As we have already seen in the above step, when you make a payment  on any of the participating online stores, you will be asked for your Verified by Visa  PIN. Simply enter your  Secure PIN, click on  Submit, and you're done. Next time onwards, you will be required to enter this for all future transactions.
How will the online store know that I have Verified by Visa?
Participating online stores will automatically recognize your  Visa Card number if you have registered it for Verified by Visa and take you to the VbV screen where you need to enter the password to proceed making the payment.
Taking into account the increasing number of frauds happening online, this is a great service from VISA and by now every online merchant has made it mandatory to be registered with VbV to make online purchases.
Note: In this article, I have mentioned 'Credit Cards'. This service is also applicable to your VISA Debit Cards as well.
I hope that the information given above would be of a great help to you. In case you do not  follow anything, please feel free to contact us or enter your query in the Comment Box below.
You may also want to subscribe to our free email service to receive the posts directly in your inbox by filling in your e-mail address below.